National Professional Qualifications (NPQs)
Applications are now open for February 2024 NPQ Cohorts
We are proud to be the local delivery partner for the full suite of National Professional Qualifications (NPQs), in partnership with Teach First. Teach First are one of a select group of national providers who have been designated to design, deliver and assess the new NPQs in collaboration with delivery partners (such as Teaching School Hubs).
Accredited by the Department for Education (DfE), NPQs are the most widely recognised qualifications in the education sector for current and aspiring leaders and they provide training and support for teachers and school leaders at all levels. From those who want to develop expertise in high-quality teaching practice, such as behaviour management, to those leading multiple schools across trusts.
The DfE have confirmed that NPQs remain FULLY FUNDED for teachers in all state-funded schools in the 2023-24 academic year, and targeted support funding is also available to all primary schools and secondary schools with less than 600 pupils, to support staff release costs. Further information about the targeted support fund can be found HERE.
To apply for a place on an NPQ programme in 2023-24, please click on the 'Application Process and Deadlines' tab below.
Types of NPQ
There are four specialist NPQs for teachers and school leaders who want to broaden their expertise in particular areas. The following programmes are for those who have, or are aspiring to have, responsibilities for leading teaching in a subject or year, leading behaviour and/or supporting pupil wellbeing in their school, or leading the development of other teachers in their school. (Click on the links below for further information).
For those looking to progress into senior leadership and beyond, the following NPQs build foundational knowledge to rapidly progress your school, education setting or trust's key improvement priorities – all while creating and embedding a culture that allows your school/eduction setting, staff and pupils to thrive:
From February 2024 we will also be offering the new NPQ for Leading Primary Maths (NPQLPM). This NPQ is for teachers who have, or are aspiring to have, responsibilities for leading primary mathematics teaching across a school, key stage or phase and requires at least one year of engagement with Maths Mastery to be eligible to apply.
Further information on each of the qualifications is available in our NPQ brochure, attached at the bottom of the page.
Early Headship Coaching Offer (EHCO) - this is aimed at new headteachers taking the NPQH in their first five years of headship.
One to One Support Offer - Teach First is offering free one-to-one support on all of the NPQ programmes, for teachers and leaders working in schools and settings serving disadvantaged communities. This free support comes in the form of an experienced former school leader who will coach and guide you throughout your NPQ. You can apply for this in your application with us and Teach First will allocate this support on a priority school basis.
Costs and Scholarship Funding
NPQ for Leading Teaching (NPQLT) - £840
NPQ for Leading Behaviour and Culture (NPQLBC) - £840
NPQ for Leading Teacher Development (NPQLTD) - £840
NPQ for Leading Literacy (NPQLL) - £840
NPQ for Leading Primary Maths (NPQLPM) - £840
NPQ for Early Years Leadership (NPQEYL) - £1045
NPQ for Senior Leadership (NPQSL) - £1,045
NPQ for Headship (NPQH) - £1,690
NPQ for Executive Leadership (NPQEL) - £3,245
Scholarship Funding (currently valid until end of 2023-24 academic year)
From Autumn 2021, all teachers and leaders employed in state funded schools, and state funded organisations that offer 16-19 places, in England will be able to access a fully funded NPQ.
Additionally, scholarship funding for the new NPQEYL is also available to early years practitioners and leaders in childcare providers and minders registered on the Ofsted Early Years Register.
In order to access scholarship funding, it is imperative that participants have completed the DfE portal registration process as the funding will be conditional on successful validation of participants' information against TRA records. (See 'Apply' section for details of how to access DfE NPQ Portal).
The DfE are also paying additional funding to state-funded primary schools, and smaller secondary schools, to support staff release costs. Please see below for further information;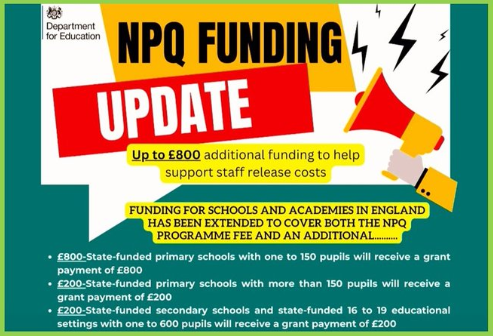 Application Process and Deadlines
Applications for all NPQs involve a two-stage process and both stages must be completed:
1. Register for an NPQ on the DfE portal. (When completing this stage please ensure that you specify you wish to undertake the programme with the Leicester & Leicestershire Teaching School Hub & Teach First)
2. Complete our application form. (All applications will be screened to assess applicants' suitability before being accepted onto a programme)
Applications are now being accepted for February 2024 cohorts
Guidance on completing your application, and the questions that will be asked, can be found in the application guidance PDF below (PLEASE READ before starting your application).